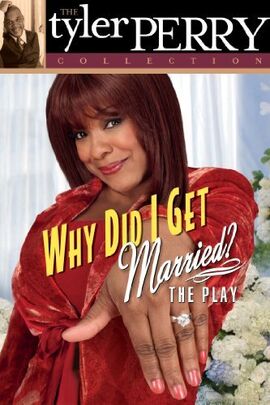 This play was recorded in front of a live audience. It stars Cheryl Pepsii Riley, Donna Stewart, and LaVan Davis as Poppy. It was released on DVD alongside Madea Goes to Jail The Play and Madea's Family Reunion The Movie.
Every year, these friends get together for a weekend retreat. This year sparks fly from the first moment: Diana (an attorney married to Terry) is distressed that the unhappily married Sheila has brought her friend Trina along. Diana thinks Trina has her gold-digging sights set on Mike, Sheila's mean-spirited husband. This year, their unmarried friend, Troy, comes alone. The weekend ends early in disclosures and heartbreak. A year later, the six people - plus Terry's widowed father, Poppy - gather and this time they each address the question, "Why did I get married?" The answers reveal beliefs, decisions, and personalities. At any moment, someone might break into song.
Chery Pepsii Riley as Sheila
Donna Stewart as Diana
Greg Stewart as Terry
Tony Grant as Troy
Cordelle Moore as Mike
Demetria McKinney as Trina
LaVan Davis as Poppy
Beverly Faulks as Janice
Ad blocker interference detected!
Wikia is a free-to-use site that makes money from advertising. We have a modified experience for viewers using ad blockers

Wikia is not accessible if you've made further modifications. Remove the custom ad blocker rule(s) and the page will load as expected.