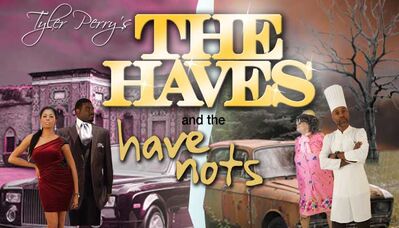 This play was recorded in front of a live audience. It stars Alexis Jones, Jeffery Lewis, Maurice Launcher, Patrice Lovely, and the riotiously funny Palmer E. Williams Jr.
This fall Tyler Perry presents a riotously funny and equally poignant stage play - The Haves and The Have Nots. The story follows the life of a wealthy family who has everything they need and most of what they want. The characters are often preoccupied with superficial things, until they are forced to become involved with their housekeeper. When the poverty-stricken maid is forced to ask for help, the family gets a chance to see how the other half lives. While coming to the rescue of the needy, it soon becomes painfully clear, who is really in need of saving. The Haves And The Have Nots stars Palmer Williams Jr. and a supporting cast of powerhouse singers and comedians. The powerful stage play features brand new music written by Tyler Perry, and delivers enough laughs to keep audiences laughing for the rest of the year.
Palmer E. Williams as Floyd
Patrice Lovely as Hattie
Maurice Lauchner as Lewis
Alexis Jones as Diane
Tony Hightower as Frank
Jeffery Lewis as Wallie
Kislyck Hallsey as Rose
Television series
Edit

http://tylerperry.com/stage-plays/haves-and-have-nots/
Iss as funnny movie I want to play in your shoes

Ad blocker interference detected!
Wikia is a free-to-use site that makes money from advertising. We have a modified experience for viewers using ad blockers

Wikia is not accessible if you've made further modifications. Remove the custom ad blocker rule(s) and the page will load as expected.