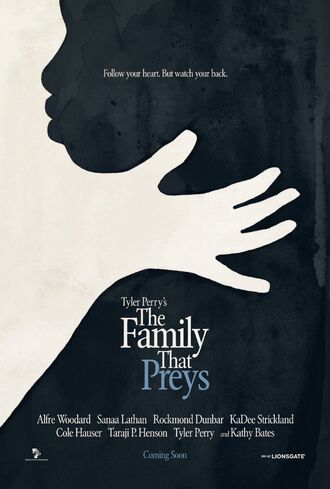 The Family That Preys is a 2008 movie. Written, produced, and directed by Tyler Perry. It stars Alfre Woodard, Sanaa Lathan, Rockmond Dunbar, Kathy Bates, Cole Hauser, and Taraji P. Henson.
Alfre Woodard and Kathy Bates star in writer/director Tyler Perry's family drama about an upper-crust family and their working-class counterparts, who discover that scandal knows no social boundaries. Charlotte Cartwright (Bates) and Alice Pratt (Woodard) may be from different sides of the tracks, yet over the years they've managed to nurture a strong and healthy friendship. That friendship is put to the ultimate test, however, when their adult children begin to act out in ways that neither parent ever saw coming. Alice's daughter Andrea (Sanaa Lathan) is married to a trusting husband named Chris (Rockmond Dunbar), but lately she's been betraying that trust by sleeping with her boss, William (Cole Hauser), who just so happens to be Charlotte's son. William is married to Jillian (KaDee Strickland), and in addition to being unfaithful, he's also scheming to take over the role of COO at his mother's lucrative construction firm. Meanwhile, Alice's other daughter, Pam (Taraji P. Henson), and her husband, Ben (Perry), a faithful family man and construction worker, have both recognized that their family has strayed from the course of righteousness, and become determined to help their loved ones back on the right path. When paternity secrets, shady double dealings, and a series of other scandals become too much for Charlotte and Alice to take, the two women set out on a cross-country trip in order to clear their heads and devise a plan for saving their families.
Alfre Woodard as Alice Reynolds
Kathy Bates as Charlotte Cartwright
Sanaa Lathan as Andrea Bennet
Rockmond Dunbar as Chris Bennet
Taraji P. Henson as Pam
Tyler Perry as Ben
Cole Hauser as William Cartwright
KaDee Strickland as Jillian Cartwright
Robin Givens as Abby Dexter
Sebastian Siegel as Nick Blanchett
http://tylerperry.com/movies/the-family-that-preys/
Ad blocker interference detected!
Wikia is a free-to-use site that makes money from advertising. We have a modified experience for viewers using ad blockers

Wikia is not accessible if you've made further modifications. Remove the custom ad blocker rule(s) and the page will load as expected.