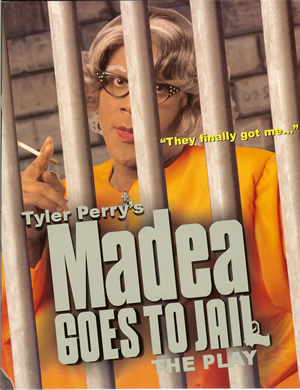 Madea Goes to Jail
is an American musical play created, produced, written, and directed by Tyler Perry. This play was recorded in front of a live audience. It stars Tyler Perry, Christian Keys, Cassi Davis, Cherly Pepsi Riley, and Judy Peterson.
Madea is arrested at Conyers and sent to jail for just driving off and not paying for gas and asks her nephrew, Sonny to go under her mattress and grab her $900. She is released on bail, but has to take anger management classes, and is asked by a prison inmate, Katie to take in her daughter, Tony in as Katie is being released from jail soon. Meanwhile, Sonny is living in Madea's house with his selfish wife, Vanessa and his son, Sonny, Jr. as Vanessa has been having a affair with Sonny's boss, Nate as one night, while Sonny is at work and Vanessa can be seen with Nate, she leaves the baby in the bathtub which causes the baby to fall and cut his head and almost drown. Sonny, Vanessa, and Nate come back to the house and Madea notices Nate smells like the kente oil that Vanessa sprays on the clothes and sheets as Madea tells Sonny, that Vanessa is cheating which causes an argument and then Wanda, a old flame of Sonny comes to tell Sonny that the baby needs a blood transfusion, but Sonny isn't a match, as Nate says he is the father which causes Madea to shoot at Nate and go after him. Madea has been discliping Toni and has Katie tell Toni the truth about her father as Toni doesn't believe her. Sonny divorces Vanessa, Nate is sent to a dangerous part of the prison and Sonny is promoted. The family celebrates the divorce by singing gosphel songs. Pete, Toni's father shows up and attempts to take her away and rape her, but Madea scares him away by shooting at him with two guns. The play ends with Katie getting out of prison and reuniting with Toni and Sonny starts dating Wanda. And it seems Sonny's co-worker, Leo is the baby's father.
Tyler Perry as Madea
Cassi Davis as Ella
LaVan Davis as Leo
Christian Keyes as Sonny
Cheryl Pepsii Riley as Wanda
Judy Peterson as Katie
Andretta Lyle as Toni
Brian Hurst as Jeremy
Chantelle D. Chistopher as Vanessa
Ryan Gentles as Nate
Crissy Collins as Chico
Ron Andrews as Pete
Ad blocker interference detected!
Wikia is a free-to-use site that makes money from advertising. We have a modified experience for viewers using ad blockers

Wikia is not accessible if you've made further modifications. Remove the custom ad blocker rule(s) and the page will load as expected.