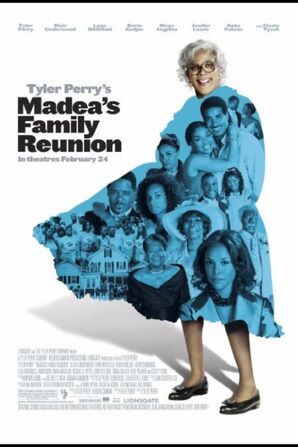 Madea's Family Reunion
is a 2006 American comedy-drama film based on the play by Tyler Perry. Its stars Tyler Perry, Rochelle Aytes, Lynn Whitfield, Lisa Arrindell Anderson, Jennifer Lewis, Boris Kodjoe, Maya Angelou, Cicely Tyson as Myrtle. It is the sequel to
Tyler Perry's Diary of a Mad Black Woman The Movie
.
Madea has her work cut out for her when she finds herself dealing with a handful of family crises the same weekend that she's planned a massive family reunion. Her niece Lisa (Rochelle Aytes) is engaged to marry a handsome and successful man (Blair Underwood), but the good news is blunted when she reveals to her friends and sister that he beats her. Another niece, Vanessa (Lisa Anderson), has been having romantic problems of her own, and isn't sure she should take another chance on love with a humble but good-hearted bus driver (Boris Kodjoe) due to something in her past. Madea's older sister dies, with the funeral landing the same weekend as Lisa's wedding. And on top of all this, a court order forces Madea to look after Nikki (Keke Palmer), a troubled and angry teenager from a broken home.
Tyler Perry as Madea/Joe/Brian
Rochelle Aytes as Lisa
Lisa Arrindell Anderson as Vanessa
Lynn Whitfield as Victoria
Tangi Miller as Donna
Henry Simmons as Issac
Boris Kodjoe as Brian
Keke Palmer as Nikki
Blair Underwood as Carlos
Cassi Davis as Aunt Sarah
Cicely Tyson as Myrtle
Maya Angelou as Ruby
Judge Ephriam as Herself
Ad blocker interference detected!
Wikia is a free-to-use site that makes money from advertising. We have a modified experience for viewers using ad blockers

Wikia is not accessible if you've made further modifications. Remove the custom ad blocker rule(s) and the page will load as expected.