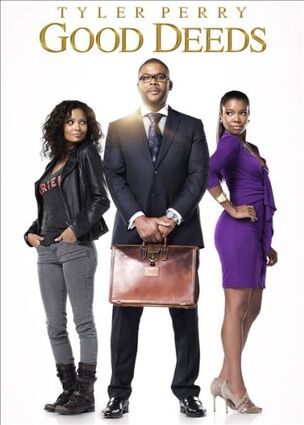 Good Deeds
is a 2012 romantic drama film directed, written by and stars Tyler Perry. The film also stars Thandie Newton, Gabrielle Union, and Brian J. White. The film was released in theatres on February 24, 2012 was released on DVD, alongside the play, Aunt Bam's Place on June 12, 2012.
A successful, wealthy businessman, Wesley Deeds (Tyler Perry) has always done what's expected of him, whether it's assuming the helm of his father's company, tolerating his delinquent brother's misbehavior at the office or planning to marry his beautiful but restless fiancée, Natalie (Gabrielle Union "Daddy's Little Girls"). But Wesley is jolted out of his predictable routine when he meets Lindsey (Thandie Newton "For Colored Girls"), a down-on-her-luck single mother who works as a cleaning person in his office building. Outspoken, impulsive and proud – and also recently evicted – Lindsey struggles to make ends meet for herself and her young daughter. But when Wesley offers to help her get back on her feet, his innocent good deed ignites an unexpected attraction – and suddenly Wesley finds himself caught between the life he thought he wanted and the powerful desires of his heart…
Tyler Perry as Wesley Deeds
Thandie Newton as Lindsey
Jordenn Thompson as Ariel
Gabrielle Union as Natalie
Brian J. White as Walter Deeds
Rebecca Romijn as Heidi
Eddie Cibrian as Mark
Phylicia Rashad as Willimena
Beverly Johnson as Brenda
Jamie Kennedy as Mark
Ad blocker interference detected!
Wikia is a free-to-use site that makes money from advertising. We have a modified experience for viewers using ad blockers

Wikia is not accessible if you've made further modifications. Remove the custom ad blocker rule(s) and the page will load as expected.