This play was recorded in front of a live audience. It stars Marva King, Curtis Blake, Tamela Mann, and Tyler Perry as Madea and Daddy Charles.

aaaaa
Before it was a movie, it was a theatrical phenomenon! When Helen learns that her husband is leaving her for her best friend, the women in her family are ready with advice. Her devout mother preaches strength and forgiveness, while her parolee grandmother shows up with a gun! Acclaimed playwright Tyler Perry dares to mix sacred and secular humor with riotous results. Experience his most famous morality tale, now a major motion picture, in its original stage format...complete with live musical numbers!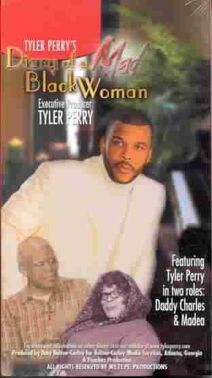 Tyler Perry as Madea/Daddy Charles
Marva King as Helen
Curtis Blake as Charles
Tamela Mann as Myrtle
Ty London as Willie
Regina McCrary as Angelou
Tunja Robinson as Brenda
Cordelle Moore as Orlando
http://tylerperry.com/stage-plays/diary-of-a-mad-black-woman/
Ad blocker interference detected!
Wikia is a free-to-use site that makes money from advertising. We have a modified experience for viewers using ad blockers

Wikia is not accessible if you've made further modifications. Remove the custom ad blocker rule(s) and the page will load as expected.