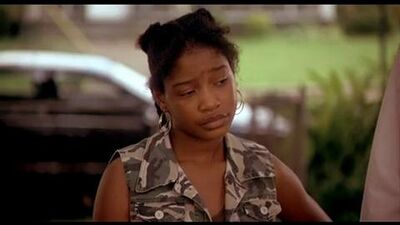 "Look! If you touch me, I'm going to call 9-1-1!" - to Madea
Character
Edit
Nicki Grady is the adoptive daughter of Madea. She is mischievous girl with a good heart deep down. She is approximately thirteen years of age.
Background
Edit
While growing up, she never knew her father and he mother ended up having to give her to foster care because she was locked up in jail. Her last foster mother said cruelly to her, the only thing she will be good enough to do is lay on her back. It was very apparent that her foster mother took her in for the money and not the compassion, loving care of her.
Madea's Family Reunion (film)
Edit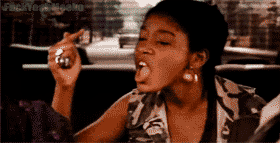 When Madea is caught for taking her house arrest bracelet during the events of the
Diary of a Mad Black Woman
film, she is taken to court with
Brian
defending her once more. Nicki is also caught running away from the house she was staying in foster care. As punishment seeing how she is family orientated and has space for family in her house, the judge grants her to be Nicki's new foster mother which Madea initially declines, but ultimately accepts with Brian's approval saying she will make a great foster mother.
When they arrive from court, Joe is with Isaac while he fixes the mover. Joe mistakes Nicki Grady for Tiffany saying they all "look alike". Madea and Brian briefly introduces her to the family and shows her into the house.
Nicki appears to still by troublesome and unmannerly. through Madea's tough love, Nicki begins to change as they bond and feels honest love from her foster mother. After sometime, She looks out for Vanessa's kids, Joe, did chores and befriended Tiffany when she needed help with her math homework. Madea tells her that she can stay with her as long as she wants to; until she reaches college age and encourages her to pursuit her dreams which she tell her she wants to be a lawyer, like Brian.
She appears at the reunion, mannerly and polite, and is like part of the family. She even witnesses Lisa fighting back while outside with Madea heading to the church for the wedding.
Relationships
Edit
Appearances
Edit
Madea's Family Reunion, 2006 (The Movie)
House of Payne, 2006 ( Television Series )
She is portrayed by Keke Palmer.
She is inspired by Brian to become a lawyer when she grows up.
It is implied through Tiffany helping her with her math homework that they have become friends. She claims she has to call Tiffany after she gets finished showing Madea her math scores.
It is unknown what happened to Nicki in the later films, but she would be at least 15 years old age in the latest film. She may actually be in college to pursuit her dreams of becoming a lawyer.
Ad blocker interference detected!
Wikia is a free-to-use site that makes money from advertising. We have a modified experience for viewers using ad blockers

Wikia is not accessible if you've made further modifications. Remove the custom ad blocker rule(s) and the page will load as expected.