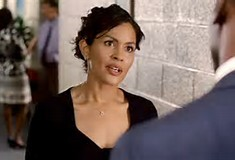 Character
Edit
Linda is one of the subtle antagonist characters in Tyler Perry's Madea Goes to Jail (film). She is an over ambitious assistant district attorney and Joshua's lover during the film, but she becomes his ex-lover due to her deep jealousy towards his old friend Candace.
Background
Edit
Linda lived an entitled life which she has gained a huge "princess" personality which she is use to getting what she wants; including love. She eventually meets Joshua and falls in love with him.
Madea Goes to Jail (Film)
Edit
In the beginning of the film, she is volunteered the Madea case. She goes with her friend Tonya to pick out the bridesmaid dresses for her pending marriage to Joshua.
Linda takes Candace's and Madea's case. Linda is shown to immediately dislike Candy during the arraignment. She openly expresses disagreement to the bail being set at $1,500 wanting a more severe punishment, but Judge Mablean resolves on the set bail. With the Madea case, The police forgot to Mirandize her and read her rights before arresting her which she is granted dismissal of the case to the dismay of Linda.
Linda's resentment of Candace grows when she sees Joshua paying her more attention. Seeing that Josh has feelings for her, she falsifies her case to eliminate her from Josh's life so she can have him all to herself. Chuck stumbles on her working on the files and looks to see that she is falsifying Candace's case with a closed case. She threatens to expose him cheating on the bar exam to keep his mouth shut which temporarily work until her wedding day.
At the wedding day, unknown to her, Chuck eventually tells Joshua the truth of her falsifying Candace's case seeing as how he was still working on her case right before his own wedding day. Josh humiliates Linda on their wedding day with the truth and breaks up with her.
For the many falsified cases, including Candace's and Madea's cases, she was indicted.
Relationships
Edit
Joshua (ex fiancé)
Tonya (good friend)
Chuck (friend)
Candace (enemy)
Madea (enemy)
She is approximately in her late twenties in age.
She has the best reputation with her numbers with an 89% conviction rate. It is implied that she was falsifying charges to build her reputation and be better than her other colleagues.
She is acquainted with Brian Simmons through court settings.
She similar Brenda from Tyler Perry's Diary of a Mad Black Woman The Play as she is another scandalous female attorney.
Ad blocker interference detected!
Wikia is a free-to-use site that makes money from advertising. We have a modified experience for viewers using ad blockers

Wikia is not accessible if you've made further modifications. Remove the custom ad blocker rule(s) and the page will load as expected.