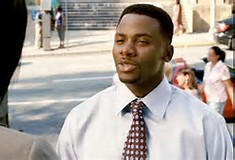 Character
Edit
Joshua is the main protagonist in Tyler Perry's Madea Goes to Jail (film). He is a young assistant district attorney within later twenties. He is old friends with Candace, good friends with Chuck and currently engaged to be married to Linda.
Background
Edit
He is childhood friends with Candace and they shared a very close friendship, even knowing each other's families. They eventually went to college together, which they went different paths.
Josh was invited to a party he didn't really want to attend, but they told him to invite her which he did and when he wasn't around to protect his beloved friend, she was raped by his friends. She held the grudge against something he had no part of for a long time, and her life was in ruins. When She dropped out of college, became more promiscuous and started using drugs to cope with what happened to her, he became more ambitious (even working two jobs) to cope with never fully acknowledging the pain Candy suffered.
Eventually, all his hard work pays off and he finishes college and goes to law school. He meets Chuck, Linda and Tonya and they all pass their bar exams and become lawyers. They all work as assistant district attorneys within Georgia.
Relationships
Edit
He is in his late twenties in approximate age.
He used to call Candace "Cece" when they were growing up.
It is possible he is also acquainted with Brian Simmons due to both being attorneys.