"You know you gon' need a best man, right?"
-to Josh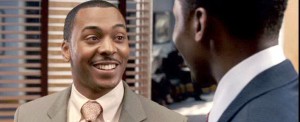 Character
Edit
Chuck is a supporting protagonist in Tyler Perry's Madea Goes to Jail (film). He is friends and colleagues with both attorneys, Joshua and Linda.
Background
Edit
Chuck's past is unknown during the film, but what is known that Linda and himself took the bar test to become lawyers around the same time and she has proof that he cheated. It is unknown how he cheat or if she was involved with his cheating. She didn't say anything and they both became lawyers, but strangely, he would be more vague and brief around her about his affairs.
Madea Goes to Jail (Film)
Edit
In the beginning of the film, he is watching the video of the cops chasing
Madea
with his colleagues. He and
Joshua
are talking when their boss tries to check for any volunteers for Madea's case. He continues talking to Josh asking him about the pending wedding.
He finds Josh at the diner with Candace which he introduces them. Linda and Tonya come and then Candace soon leaves which brings on an awkward moment which Tonya assumes that Josh is feeling "guilty' for people that live in the ghetto. Chuck tries to tell him to agree to disagree and change the subject which ultimately is what happens and they ordered food.
He helps Josh try to pick out spots for his honeymoon until Linda comes in and he deems he will "leave you two lovebirds alone". She asks where he is off to and he quickly just says he has a date.
Relationships
Edit
Joshua (good friends)
Linda (friends)
Tonya (friends)
Candace (acquaintance)
"You know you gon' need a best man, right?" -to Josh
He is portrayed by actor Ron Reaco Lee in the film.
He is within his late twenties in approximate age.